Transit
Labor
The decline of public transit in the United States was one of the consequences of urban sprawl that has dominated this country's development since the end of World War II. (More about this problem can be found on the Labor & the Environment page on this site.) This national trend was pushed to the extreme in the Kansas City Area. A good summary of this process can be found in a Labor Party Transit Club position paper, The Future of Kansas City Transit.
---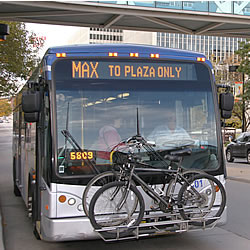 ATA outlines bus service cutbacks
Amalgamated Transit Union Local 1287
---
There are three principal unions in the North American transit industry
Amalgamated Transit Union Transport Workers Union United Transportation Union
A few properties are represented by the Teamsters
And in Vancouver, B.C. transit workers are represented by: CAW Local 111

Passenger Advocacy Groups
Los Angeles Bus Riders Union New York City Straphangers Transit Gazette
The transit bosses have a national organization, the American Public Transit Association
Kansas City Area Transportation Authority Johnson County Transit
United States Bus Transit Systems with 200 or more Buses

Federal Transit Administration
Some interesting miscellaneous sites:
The TTC celebrates the 50th Anniversary of the subway!
Internet Transit Center (Horizon)
Subway Navigator
The Subway Page
London Bus Page
London Transport
New York City Subway Resources
Magic Paris
Paris Metro, "RER", and Bus
Do you have a link to suggest for this page? Send it along to: webmaster@kclabor.org
Check the Daily Labor News Digest For Timely News About Transit Labor